Jiffy is a platform that instantly connects homeowners with nearby, quality home maintenance and repair professionals in over 30 categories. Welcome to our blog, where we share home maintenance tips, inspirational design ideas, and information on how we make it easier than ever to complete projects around the house.

As far as desirable home renovation projects go, there are few places that homeowners look to improve more than the kitchen. We've talked before about how the kitchen can act as the home's aesthetic hub as well as its most essential communal gathering space. And while the urge to renovate and beautify these spaces is entirely understandable, a kitchen renovation is one of the most expensive home improvement projects that homeowners can undertake.
When it comes to large-scale renovations, even modest projects can cost between $12,000 and $30,000, while more lavish projects can cost $50,000 and over. With this in mind, it's important for homeowners to understand efficient, high-impact projects they can undertake that won't break the bank. Keep reading to learn about a stylistic change that can help to transform your kitchen without having to actually transform your entire kitchen.
Overhaul Your Kitchen Cabinets and Backsplash
Regardless of your kitchen's current style, or your intended style, the way in which the cabinets and the backsplash complement each other matters significantly when it comes to cultivating the right look and feel. These two design elements can either match or contrast with one another to create dramatic tension or seamless continuity, depending on your preferences. Even if you lack the grand plans or the budget to overhaul the rest of your kitchen, updating these two elements can go a long way towards helping you achieve a contemporary, transformative look. And the best part? While both of these projects can upgrade the look of any kitchen, they are speedy and quite cost-effective if they are executed efficiently.
Don't Replace Your Cabinets, Refinish Them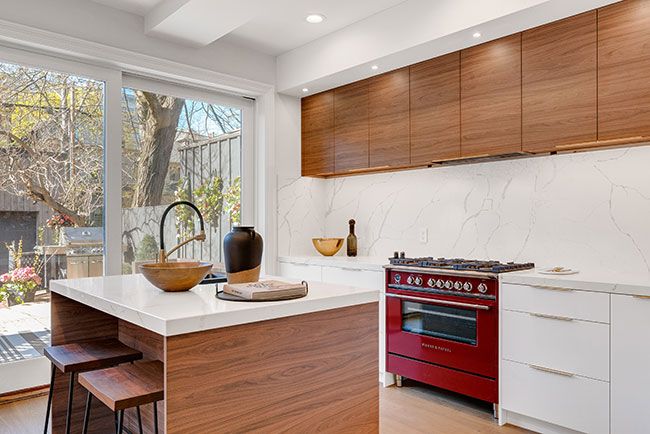 Brand new cabinets can be some of the most expensive components of a new kitchen renovation. Fully replacing your cabinets can cost in the range of $4,000 to $13,000 depending on the materials used.¹ So in the interest of saving money (up to $5000 in some cases²) while still improving the look of outdated, dreary cabinets, homeowners should consider refinishing them instead of opting for a full replacement. This is especially true if the cabinets are still functional and are just in need a style upgrade.
The process of refinishing is flexible and largely depends on the state of the current cabinets and your specific design preferences. Depending on the material, refinishing primarily involves sanding, priming, staining and/or painting to refresh outdated colours and textures. Another excellent option during the refinishing process is updating and replacing the hardware of your current cabinets.
It's crucial to consider both current and timeless design trends before making any aesthetic designs regarding your cabinets. Bold, contemporary kitchen trends like matte black or coloured cabinets or more neutral ideas like white cabinets with accented hardware or dark-stained wooden cabinets set against a white backsplash are all excellent options depending on your preferences.
Set Your Cabinets Against a Beautiful New Backsplash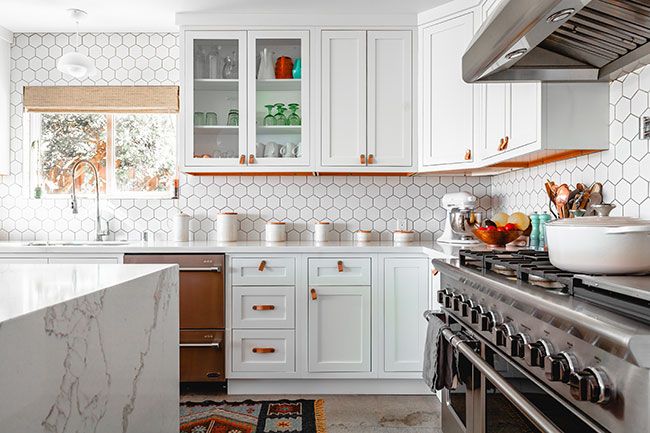 While refinishing your cabinets may seem like enough of a job on its own, reimagining your kitchen's backsplash is an excellent way to make those cabinets pop while also continuing to contribute towards a gradual kitchen transformation. Not only can the right backsplash improve the look of a kitchen, but it can also better protect the wall behind the countertops from water damage and food stains.
As far as style is concerned, it's important to find a configuration and a colour that works when set against your new cabinets. Depending on your cost restrictions, herringbone tile, pure granite, chevron tile and laser-cut tile are all popular options. That said, there is something about the standard, pure white 3"x 6" subway tile that will never go out of style. This configuration matches well with any cabinet style and it also fluctuates in cost. The average cost for subway tile materials ranges from around $6.00 to $13.00³, meaning this material can fit a variety of budgets.
Book a Jiffy Handyman to Help With Kitchen Projects
In terms of the scope and difficulty of the work, refinishing cabinets and properly installing a backsplash are both difficult, exacting trades that require a professional touch. Instead of trying to save money by doing it yourself, or scouring the internet for quotes and reviews, instantly book a Jiffy handyman to get the job done right.
Our platform provides a seamless booking experience from start to finish:
Select "Handyman Services"
Fill in your order details and location
Identify the timing that works best for you
We will dispatch the nearest handyman at the requested time
Pay seamlessly and rate your Pro based on your overall satisfaction with the job.
Home improvement doesn't have to cause you grief. Whatever project you have on the go, Jiffy can put you in touch with the right home improvement Pro to help you complete it quickly, correctly and to a high standard.
---