Jiffy is a platform that instantly connects homeowners with nearby, quality home maintenance and repair professionals in over 30 categories. Welcome to our blog, where we share maintenance tips, inspirational design ideas, and information on how we make it easier than ever to complete projects around the house.
Seasonal home maintenance is rarely ever isolated to one job or task. No matter the season in question, shifts in temperature require homeowners to simultaneously address both the inside and outside of their homes to ensure they are properly prepared. This is why we introduced Jiffy Points and Streaks. With these two programs, homeowners who book home maintenance through the Jiffy App can easily address multiple jobs at once, while saving money in the process.
With Jiffy Points, homeowners who book through the Jiffy App can now earn points which they can use as credits towards future jobs. For every 300 points, you can redeem $10 in Jiffy credits. And with Jiffy Streaks, you can earn points even faster. Streaks are groups of Jiffy jobs that fit perfectly together. When you book multiple jobs within the same Streak, your Points multiplier increases with each completed job. So not only do you address multiple areas around the house, you also get credits towards another item on your to-do list.
The Jiffy Fall Streak, which is available until November 30th, is specially curated to help homeowners complete those crucial fall tasks in time for winter. Read on to learn more about the jobs that comprise this seasonally-specific streak.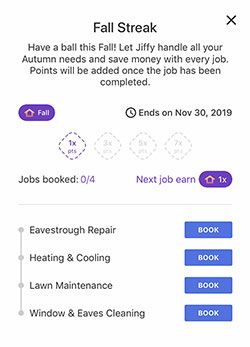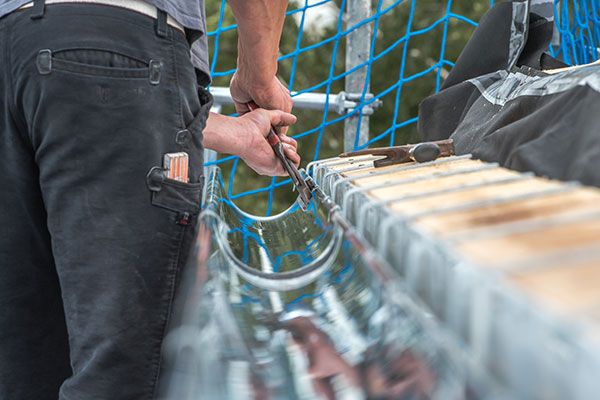 Eavestroughs are the channels that are affixed to the outer edges of your roof to collect and channel water runoff away from the home. These fixtures, along with soffits (the underside of the overhanging part of the roof), downspouts and siding material, are all highly susceptible to damage due to factors like age, moisture and extreme weather. Ensuring these fixtures are in perfect shape should be a priority for homeowners, especially as we move into the colder months. In the late-fall and winter seasons, the unique weather demands put eavestrough systems at risk of damage and blockages. This also means that the home becomes more susceptible to water damage and infiltration.
There are a few key signs to look out for which indicate that your eavestroughs are in need of a repair:
The eavestroughs are sagging or pulling away from the eaves.
You notice any sort of leakage from corners, seams or joints.
Eavestroughs won't drain water properly if there is a bad pitch. Whether it's from poor installation or undue damage, this poor pitch must be addressed as it can lead to pooling water and further damage to your eaves.
In order to mitigate the chance of damage, have your eavestrough systems inspected and repaired with the Jiffy Fall Streak. Book instantly on our mobile app and we'll send a quality Pro to provide a free, flat quote for the job.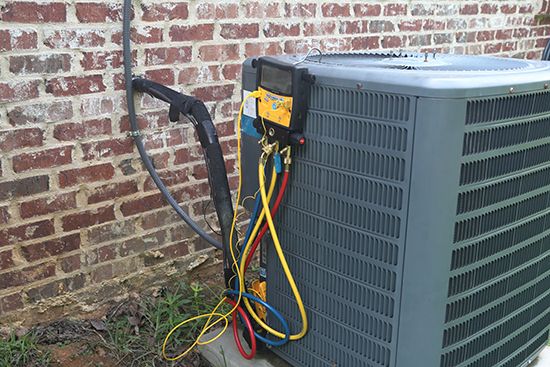 With a long stretch of cold weather ahead of us, the inspection and maintenance of your HVAC is essential. This is not only to ensure your home stays comfortable, it's also to ensure that your system stays running as efficiently as possible. Winter is a very taxing season for your HVAC system; having it serviced around this time can lead to more efficient use and a longer lifespan for the unit. Because HVAC service technicians primarily get busy during the winter months responding to last-minute calls, it's important to be proactive. Having your unit serviced during the mid- to late fall is the ideal time to have this work done.
Jiffy heating and cooling Pros will fully inspect your unit and recommend any repairs to ensure your system is in proper working order. These types of inspections include:
Ensuring that all electrical connections are sound and that readings are normal.
Lubricating moving parts for added performance and efficiency.
Replacing air filters to ensure good airflow and quality (homeowners should change air filters every 3-4 months).
An assessment of the motor and fan blades for damage or obstructions.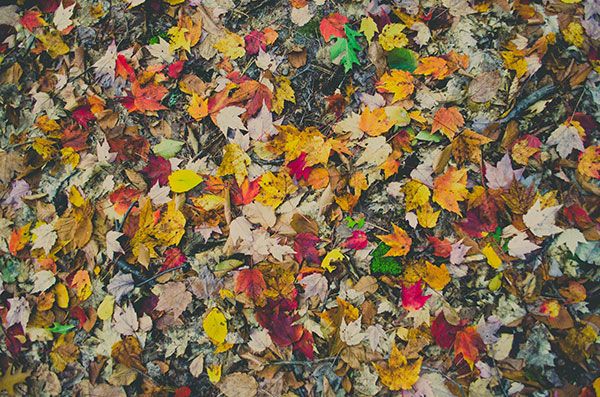 Although the aesthetics of your lawn and garden are a priority, fall yard maintenance is certainly about more than keeping things neat and tidy. Raking and cleaning the leaves actually have a significant impact on lawn health. A thick blanket of leaves affects your lawn can have many adverse effects on its health:
It prevents your lawn from breathing properly
It prevents sunlight, water and nutrients from reaching your lawn's root systems
It can allow for bugs, fungus and chronic discolouration of patches of grass
It can become matted down, preventing new blade growth in the spring
If you live in the Northeastern United States or Canada, chances are your lawn is made up of cool-season grasses. These types of grasses actually grow best between 60-75°F (15-23°C), which means that prime growing occurs during the fall season.2 Keeping your lawn free of leaf build up is crucial to ensuring your lawn can grow properly.
Aside from raking the leaves diligently, fall lawn care should still involve mowing, the occasional watering and even aeration. Booking lawn maintenance with Jiffy as apart of the Jiffy Fall Steak is a guaranteed way to keep your lawn healthy through the fall and winter.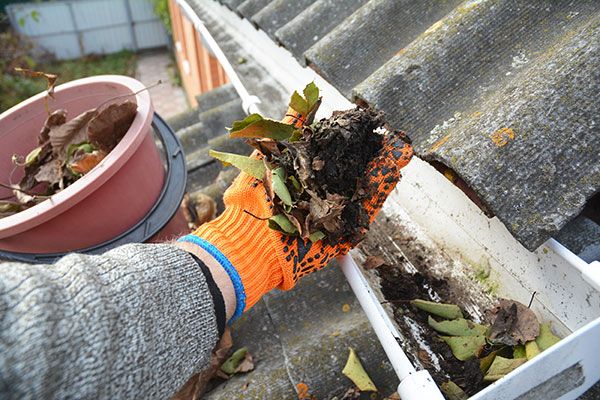 Regular eavestrough cleaning during the fall season is critical to avoid clogs and sagging. As the leaves and twigs start to fall away from overhanging trees and collect in eavestroughs and downspouts, the debris collects preventing proper water runoff. Timely eaves cleaning can also ensure that the system is in prime working order before winter hits. Clogged eaves with standing rainwater can cause major problems in freezing temperatures. This frozen water can form ice dams and icicles that can seriously damage roofs and present safety hazards for passersby.
Save on Fall Maintenance With the Jiffy Fall Streak. Download the App Today!
Whether you have booked home maintenance with the Jiffy app in the past, or you are new the service, Jiffy Points and Streaks are yet another way we make home maintenance more efficient, more reliable and more cost-effective. So before the snow falls and we move into another season replete with its own home maintenance challenges, finish that fall home to-do list in a flash with the Jiffy Fall Streak.
Download the Jiffy app today to start collecting points and to find out more information on the Streak mentioned above as well as others. Be sure to check back on December 1st to find out more great Streaks you can work on building over the winter season!
---