Jiffy is a platform that instantly connects homeowners with nearby, quality home maintenance and repair professionals in over 30 categories. Welcome to our blog, where we share home maintenance tips, inspirational design ideas, and information on how we make it easier than ever to complete projects around the house.
With a chill returning to the air, it's about time to pack up the patio gear and other summer paraphernalia and prepare for fall. Like every other season, fall presents unique problems around the house that homeowners should be aware of. Staying on top of exterior fall home maintenance tasks is an important step in ensuring your home stays in good shape and that it's prepared to handle winter.
In our last blog post, we discussed interior fall home maintenance tasks that should be top of mind going into this transitional season. This time around, we are focusing all the tasks that should take priority around the outside of the home. Read on to learn more about fall home maintenance and improvement and how Jiffy makes it easier to get the job done.
Yard Work and Leaf Removal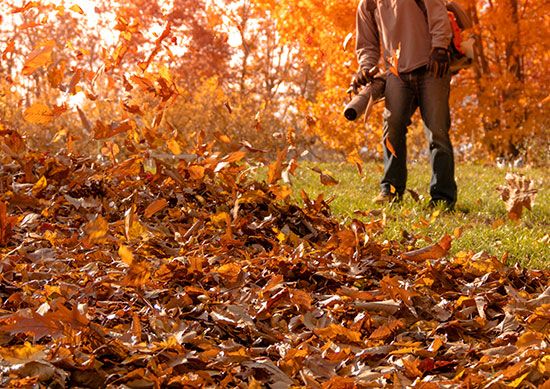 There's a misconception that raking leaves off the lawn is simply a matter of tidiness. Fall yard maintenance should never just be about winning the unspoken award for the cleanest lawn in the neighbourhood. Leaf removal also impacts lawn health. A thick blanket of leaves can cause your lawn to become matted down, preventing it from breathing properly and inhibiting fresh blade growth. It also prevents sunlight, water and nutrients from reaching your lawn's roots
If you live in the Northeastern United States or Canada, chances are your lawn is made up of cool-season grasses. These types of grasses actually grow best between 60-75°F (15-23°C), which means that prime growing occurs during the fall season.1 Keeping your lawn free of leaf build up is crucial to ensuring your lawn can grow properly.
Aside from diligent and regular leaf removal, fall lawn care should also involve mowing, the occasional watering and even aeration. Regardless of the task, it's certainly not advisable to get complacent with the lawn just because the warmer seasons are behind us. Jiffy lawn maintenance Pros can provide excellent, season-specific lawn care that will keep your yard in prime shape as winter begins to rear its head.
Fall Eaves and Gutter Cleaning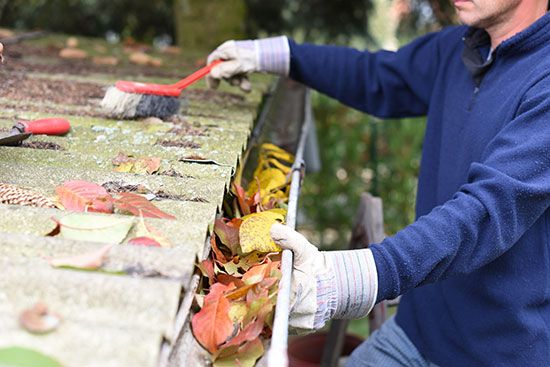 With the exception of perhaps effective lawn care, ensuring clean eavestroughs and gutters is arguably the most important fall home maintenance task. Eavestroughs (or gutters) are channels that are affixed to roofs to capture water run-off. The purpose of this system is to collect rainwater and direct it away from your home and its foundation. Regular eavestrough cleaning is critical to avoid clogs and sagging. This is especially true in the fall, when the leaves and twigs fall from trees and collect in eavestroughs.
Timely eaves cleaning can also ensure that the system is in prime working order before winter hits. Clogged eaves with standing rainwater can cause major problems in freezing temperatures. This frozen water can cause ice dams and icicles that can seriously damage roofs and present safety hazards for passersby.
And while this job is undeniably important, it's not worth your safety. Proper eaves cleaning requires working hard and dextrously on a ladder or on a roof in suboptimal conditions. And just because you have a ladder doesn't mean you have everything it takes to get the job done right. Instead of taking the risk, instantly connect with eaves cleaning Pros using the Jiffy app.
Fall Roof Inspection and Repair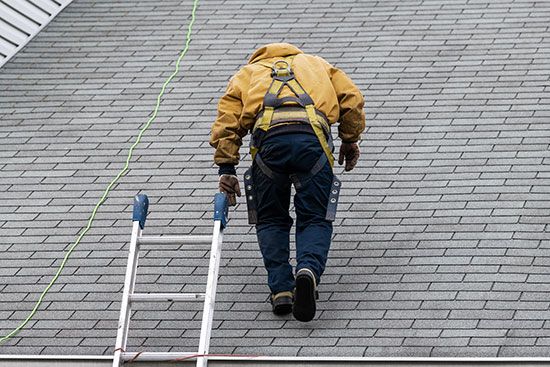 When it comes to your roof, the biggest, most large-scale problems can often start small. That's why roof inspection and maintenance is something every homeowner should look into at least twice a year. Crucially, one of these times should land in the fall in order to shore up any damages before the winter weather strikes. Winter is without question the most taxing season on your roof. Taking the proper precautions in the fall can go a long way to ensure your roof's longevity.
A roofing Pro can address any water or moisture damage above or below the shingles, cracked or rotted wood, fungal growth and weak spots that can cause problems as the weather gets colder.  Above all, this inspection will ensure that your roof is strong, insulated and properly sealed in every single area. Any sort of roofing work requires hard labour at dangerous heights for prolonged periods of time. Not to mention the fact that understanding and addressing problem areas is a specialized skill that takes years to hone. As a result, hiring a roofing Pro is highly advisable when it comes to inspection or maintenance.
Cleaning and Sealing the Deck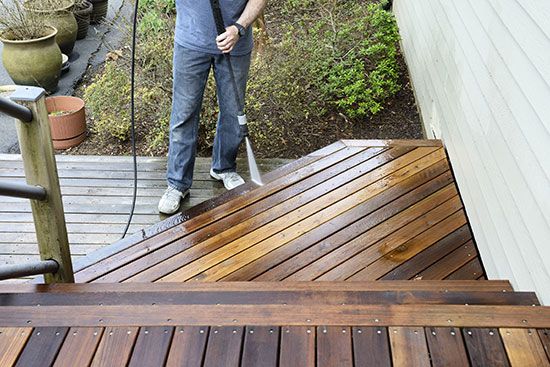 Decks go through plenty of wear-and-tear during the spring and summer months. Taking steps to winterize your deck can increase its lifespan and reduce the amount of work needed to get it up and running next season. Powerwashing and sealing your deck is an excellent way to prepare your deck for the colder months.
For powerwashing to be effective, it's important to first clean off any dust, leaves, loose dirt and debris from the surface. While it's important to remove all the items from the surface, removing any and all planters are especially important. These areas are breeding grounds for mildew and deck decay. A thorough powerwash can then help to fully clean the deck surface. Once the deck has been left to dry completely, applying a waterproof sealant will protect the wood from water and ice damage during the winter. This sealing process is especially important to protect small gaps and cracks in the wood from suffering ice damage.
Jiffy can connect you with powerwashing, staining and sealing Pros that will perform the job to a high standard, ensuring that your deck will stay in excellent shape throughout the winter.
Use Jiffy for Fall Home Maintenance and Improvement
When it comes to seasonal home maintenance tasks, it's important to be proactive. Getting ahead of potential issues by completing these exterior fall tasks can result in a healthy yard and a home that's ready for the colder weather. And with Jiffy, working around your busy schedule has never been easier or more straightforward. Our platform provides a seamless booking experience from start to finish:
Select your desired service from over 30 options
Fill in your order details and location
Identify the timing that works best for you
We will dispatch the nearest Pro at the requested time
Pay seamlessly and rate your Pro based on your overall satisfaction with the job.
Home improvement doesn't have to cause you grief. If there's a job you need done, Jiffy can put you in touch with the right Pro to help you complete it quickly, correctly and to a high standard.
BOOK JIFFY FALL HOME MAINTENANCE TODAY >>
Sources:
Scotts. "What are Cool Season Grasses?"
---