Jiffy is a platform that instantly connects homeowners with nearby, quality home maintenance and repair professionals in over 30 categories. Welcome to our blog, where we share home maintenance tips, inspirational design ideas, and information on how we make it easier than ever to complete projects around the house.
At Jiffy, we are all about making home maintenance and improvement easier, cost-effective and more efficient. The ability to book on-demand home services at preset rates through the Jiffy app saves homeowners time, energy and money during their search for reliable home services. But the perks don't stop there.
With Jiffy Points, homeowners who book through the Jiffy App can now earn points which they can use as credits towards future jobs. For every 300 points, you can redeem $10 in Jiffy credits. You can earn points by adding an address (100 points), adding flash subscriptions (150 points), completing jobs (for every $100 spent on a job, you earn 25 points), or by referring your friends and family (75 points are earned once they sign up).
And while these are all great ways to accrue credits, we've recently implemented a Streak system that helps you earn Jiffy Points even faster. Streaks are groups of Jiffy jobs that fit perfectly together. When you book multiple jobs within the same Streak, your Points multiplier increases with each completed job. So not only do you address multiple areas around the house, you also get credits towards another item on your to-do list.
But what do these Streaks look like? Read to learn more about the two types of Streaks you can complete now when you download the Jiffy App.
Already signed up for the Jiffy App? You can check out all the available Streaks on the Points Page of your app now!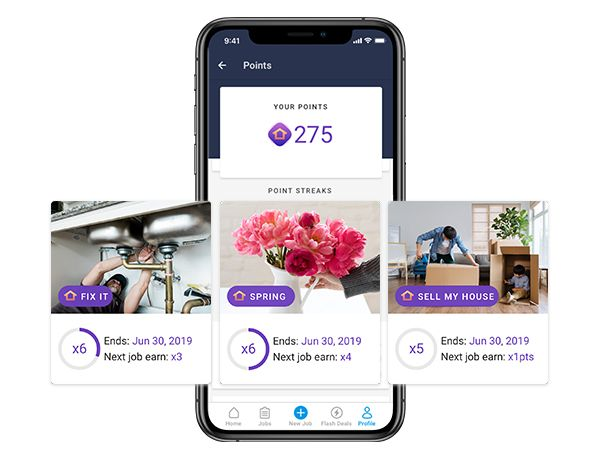 The Summer Streak
Even though the summer is slowly drawing to a close, there is still plenty of warm weather left to justify completing some, or all, of the jobs in this Streak.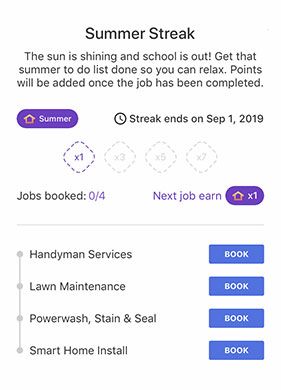 Handyman Services: Need to properly hang a picture frame or a mirror? Need to fix a broken drawer or a cupboard? Need to put a door back on its hinges? Handymen are the do-it-all types. They are the perfect solution for smaller household jobs that still require a professional touch.
Lawn Maintenance: Summer lawn and garden care is mostly about maintenance: keeping the lawn healthy, weeding and cleaning garden beds, watering plants and the occasional trimming. Given that it's now time for those last-minute summer vacations and long weekend getaways, it's easy to neglect your lawns and gardens. Jiffy lawn maintenance Pros offer an ideal solution to these problems.
Powerwash, Stain & Seal: Whether you've been enjoying your deck all summer, or you want to have it looking brand new for your late-summer get togethers, having it powerwashed, stained and sealed is an excellent option. Plus, between exposure to the elements and the added wear and tear from heavy use, decks can go through a lot during the summer months. Taking the proper steps to clean and seal your deck can protect it and prolong its life as we head into the colder months.
Smart Home Installation: Smart home products are everyday household objects that can be controlled with your smartphone or tablet. Whether you're renovating, just moving in, or looking to upgrade your home connectivity, smart home technology can help modernize and automate your home in pretty incredible ways. Bring your home into the future with smart LED light bulbs, smart home thermostats, smart home security products like locks or security cameras and interactive smart speakers. No matter what product you select, a Jiffy Pro can install it quickly and correctly so you can enjoy a more interactive, accessible home.

Rescue Me Streak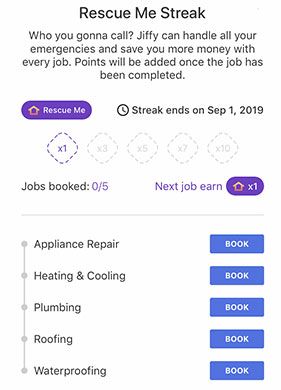 Jiffy is not just there to help with the small jobs or the aesthetic jobs; we're also there to help with the little catastrophes that can strike at any time. Book these jobs when you're really in a pinch and need reliable home maintenance right away.
Appliance Repair: Whether it's the dishwasher, the refrigerator, dryer or washing machine, a downed appliance can derail the engrained rhythms of a household. So don't prolong the inconvenience! Book a Jiffy appliance repair Pro as soon as something goes wrong and that essential appliance will be back in prime working order in no time.
Heating & Cooling: Living in Canada or the Northeastern United States means living with dramatic temperature fluctuations as the seasons change. Having reliable heating & cooling is crucial for maintaining a degree of comfort inside the home during the bitter winters and sweltering summers. Not to mention that many HVAC company warranty programs require that you routinely check up on the efficiency and functionality of your HVAC unit. So whether you're having immediate issues with the heat this summer, or you want to prepare your unit for the colder months, a Jiffy heating and cooling Pro can ensure your system is running properly.
Plumbing: It's quite difficult to overstate the importance of a properly functioning plumbing system. No matter whether the issues are big or small, or whether it's your sinks or your toilets that are acting up, Jiffy can connect you with a quality, vetted plumbing professional to fix the issue before it gets out of hand.
Roofing: There's no denying that roofing can be a significant, expensive job. That said, it's also one that's essential to the condition of your home in the short term, as well as its value in the long term. If you suspect there's something wrong with your roof, or you are just looking for a routine inspection to instil peace of mind, Jiffy's proven roofing Pros can assess the condition of your roof and can offer a free quote for both big and small jobs.
Waterproofing: It doesn't take much unwanted water in the home to spell major trouble for homeowners. Whether it's leaky walls, floors or cracks in your home's foundation, water is no friend to the home. If you're having issues with water, or you are looking to further shore up your home against unwanted leakage, book waterproofing services through the Jiffy app.
Save Money on Home Maintenance With the Jiffy App
Collecting Jiffy Points and building Streaks makes it easier than ever to both save money on home maintenance and cross multiple items off of your home checklist. Download the Jiffy app today to start collecting points and to find out more information on the Streaks mentioned above as well as others. Be sure to check back on September 1st to find out more great Streaks you can work on building over the fall season!
---