Jiffy is a platform that instantly connects homeowners with nearby, quality home maintenance and repair professionals in over 30 categories. Welcome to our blog, where we share home maintenance tips, inspirational design ideas, and information on how we make it easier than ever to complete projects around the house.
With online shopping becoming increasingly popular and a steady stream of goods being dropped off at people's doors on a daily basis, it's not exactly difficult to see why "porch pirates" have begun targeting packages for theft. What's a porch pirate you ask? It's someone who makes a habit of stealing packages off of unsuspecting people's doorsteps.
In the United States, around 31% of the population experienced some sort of package theft in 2017¹. Porch pirates have become a problem in Canadian cities as well. Toronto has recently seen an influx of these porch-related thefts over the last few months.
Despite your best efforts to be home to receive packages as they arrive, there will most likely be moments when they will be left unattended at the door. If you're someone who shops online regularly or you're simply interested in improving security around your home, it's worth looking into possible solutions. Here are a few smart home products that can help you prevent package theft.
Smart Doorbells
Ring has utilized smart technology to revamp the doorbell for the modern day. The Ring Video Doorbell 2 is a multi-use doorbell that uses Wi-Fi connectivity, video surveillance and motion sensing capabilities to provide an added layer of security and peace of mind around your home.
The Video Doorbell 2 allows you to see, hear and speak to anyone at your front door even when you're not at home. Simply open the Ring app on your smartphone, tablet or laptop and get a real-time update as to who's at the door or what packages have been left there. You can also receive notifications when somebody rings the doorbell or sets off its motion sensor. You can then utilize the two-way voice capabilities to either greet somebody you know, or if necessary, deter any would-be porch pirates.
Features & Benefits:
- Video surveillance
- Motion-sensing capabilities
- Two-way voice capabilities
- Wi-Fi enabled
- Real-time updates via the Ring App
- Battery powered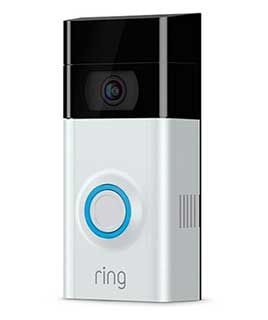 Smart Security Cameras
Modern smart home technology is also being used to upgrade the features and functionality of security cameras. The Nest Cam Outdoor has numerous features that can stop porch theft in its tracks. It comes standard with Wi-Fi connectivity, two-way voice capabilities, sophisticated 8x digital zoom and high-definition video surveillance. It's weatherproof from –4° to 104°F (–20° to 40°C) and plugs directly into an outlet so you never have to worry about the batteries running out.
If someone approaches your front step intending to steal a package, you will receive a crystal-clear video alert directly on your phone. Nest's system will notify you if it detects a person on your property or of any irregular motion or noise. You can also set up custom alerts for high-activity zones such as the front door or the driveway. Once you receive the alert, you can use the two-way voice capabilities to communicate directly. The Nest App also records and archives video in case you missed something.
Features & Benefits:
- 1080p High-definition video surveillance
- 4x motion-sensing capabilities
- Two-way voice capabilities
- Night vision capabilities
- Real-time updates with the Nest App
- Records and archives video with Nest Aware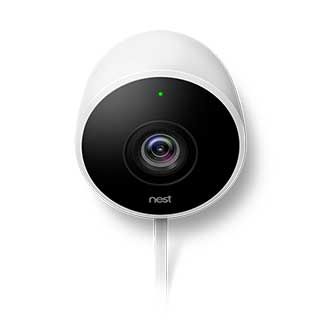 Smart Exterior Light Fixtures
For those looking for a cost-effective upgrade to their external security features, installing a smart flood light is the perfect solution. Ring's Smart Lighting Floodlight is a definitive upgrade on traditional exterior home lighting fixtures. Once the floodlight is connected to the Ring app, this motion-activated light will send automatic notifications to your smartphone whenever motion is detected. The unit is battery powered, weather resistant and shines 600 lumens of bright LED light on crucial areas around your home. For additional functionality, the Smart Lighting Floodlight can be setup to work in conjunction with other Ring smart security products.
Features & Benefits:
- Wi-Fi enabled
- Motion activated notifications
- 1 year of battery life
- Weather resistant
- 600 lumens of brightness
- Amazon Alexa enabled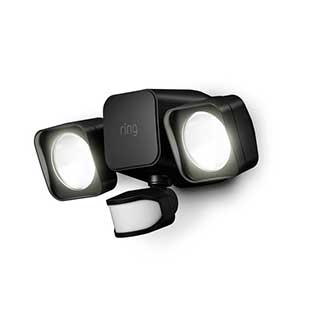 Smart Cam With Floodlight
For those looking for even more sophisticated outdoor security, Netatmo offers their Smart Security Camera with Floodlight, which combines a smart floodlight with a security camera. Like a standalone floodlight, Netatmo's system automatically activates ultra-bright LEDs and sends updates to your phone when it detects motion. However its built-in camera also sends high-definition video updates. The system is able to fully distinguish between a person, a car and an animal and you can configure the system to activate for all three or just one or the other. Netatmo's motion sensor can also detect and distinguish motion from up to 20m/65ft away.
Features & Benefits:
- Wi-Fi enabled
- 1080p video alerts
- Motion-activated LEDs up to 65ft
- Motion-activated night vision up to 50ft
- 100° field-of-view
- Wide-angle motion sensors
- Object, person, animal detection
- Free Netatmo app subscription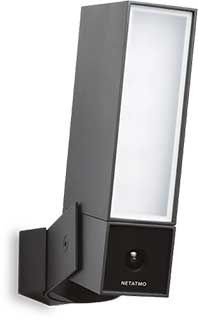 Jiffy Can Help Secure Your Home With Smart Tech
Don't let porch pirates deter you from shopping for products online or make you feel less secure around the home. These smart security products can be incredibly effective deterrents for potential thieves. For added peace of mind, Jiffy offers professional smart home installation services to help get your system running and working properly. Using our website or mobile app, simply fill in what you would like installed, your contact information and a time that works for you, and we will dispatch the nearest Pro to help you out.
Book Smart Home Installation With Jiffy Today >>
Sources:
Packaging Strategies. "2018 Package Theft Report". https://www.packagingstrategies.com/articles/90765-package-theft-report
---