Jiffy is a platform that instantly connects homeowners with nearby, quality home maintenance and repair professionals in over 30 categories. Welcome to our blog, where we share home maintenance tips, inspirational design ideas, and information on how we make it easier than ever to complete projects around the house.
Calling all Fixer Upper Fans, you may not have Chip and Joanna Gaines on call for a total home makeover, but you're probably inspired by their imaginative ranch-style homes. One of their transformations boosted the value of a home from $12,000 to $400,000 - that's 33 times its original asking price. Once we pick our jaws up off the ground, we would love to share 8 renovations that will take your place from basic to the breathtaking ranch-style home of your dreams.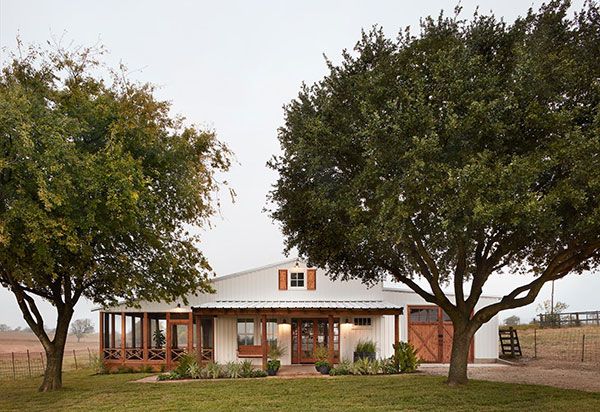 1. Barn Doors
Love them or hate them, no ranch-style home is complete without a set of sliding barn doors. Accomplishing the barn door look is a fairly low-maintenance renovation. First, decide whether you want to showcase a classic door crafted from reclaimed barn wood or a polished and painted door. A solid white panelled barn door tends to offer an elevated modern look to a ranch-inspired home. Next, you can purchase the necessary hardware and a Jiffy handyman will stop by on your schedule to install the track and make sure your door slides properly.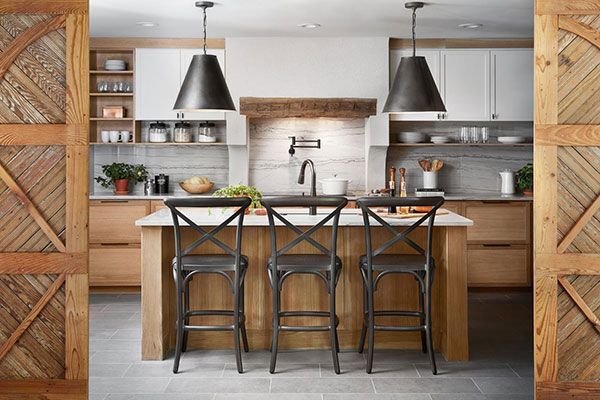 2. Playful Word Art
Vintage word art talks the talk in a ranch-style home. We think this classic font adds character to spice up a bland laundry room, but you don't have to reserve the playful words for the corners of your house. Add a statement (literally) to your living room, kitchen, or bedroom to bring personality into your personal space. Steer clear of common clichés so you can be creative without being cheesy. However, if you're craving a daily reminder to live, laugh and love, you do you!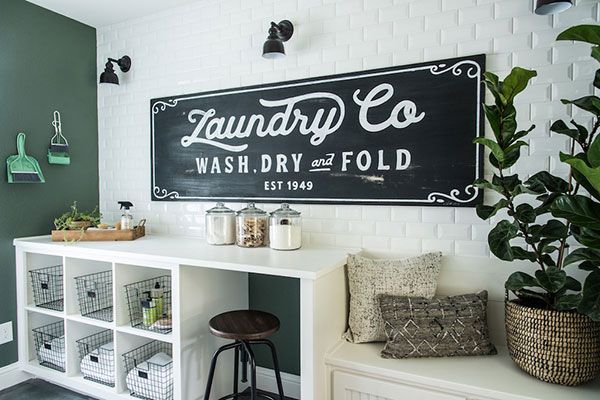 3. White Wall Panelling
Brighten up your home with a full wall of white panelling. This classic look pairs well with matte black accessories and soft grey accent colours. The white panels also mingle nicely with reclaimed barn wood and the tasteful sheen of copper. Panelled walls are perfect in the heart of the home - the kitchen - but can also be a subtle statement in entranceways or even a family room. Guests will instantly feel at home in this cozy addition without immediately recognizing the impact of the white panelling.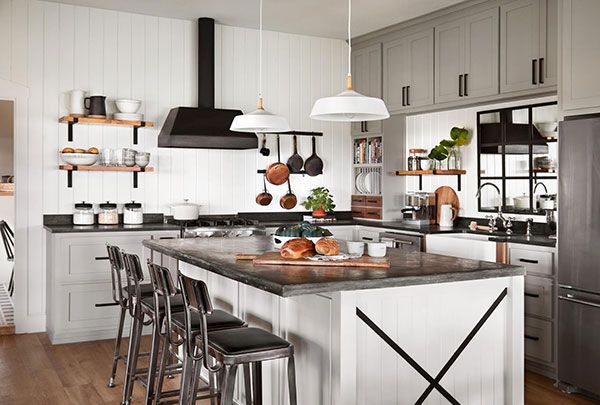 4. Farmhouse Sink
That deep, single-basin farmhouse sink you've been coveting will go perfectly with your new rustic redesign. We love when home renos aren't just beautiful, but when they're also functional. The farmhouse sink offers you space, a lot of space. Warning, this means less under-sink storage and more water used to fill the basin. More space also means it's easier to fill and clean large pots! This sink is a statement piece that can transform the look of your kitchen counter. Don't leave this idea to soak, book a Jiffy handyman to install a brand new farmhouse sink.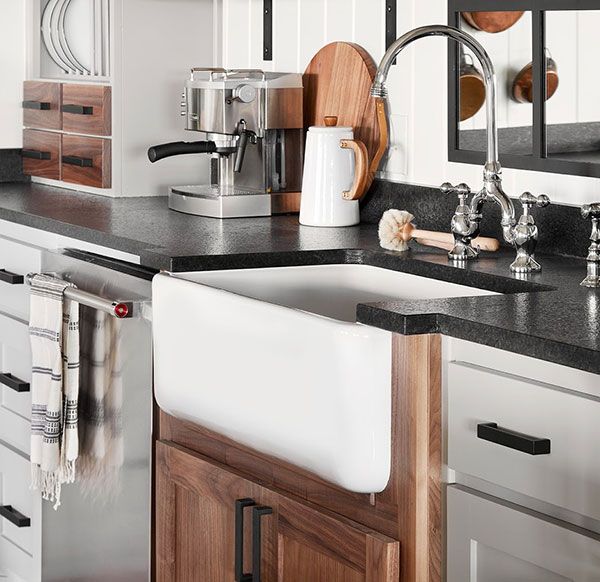 5. Pendant Lighting
The beauty of pendant lights is how they can add a contemporary touch to a rustic interior. Pendant lights are often used in multiples, hung in a straight line over kitchen countertops and dinette sets. This gorgeous set of lights appears to be inspired by stately, carriage lanterns and flaunts an open frame made from sleek square steel. The open, glass-free frame gives these lights a minimalist finish. A rustic industrial pendant light or a modern glass pendant light are also popular choices that pair well with farmhouse designs. Choose the appropriate style for your home and a Jiffy Pro will install it for you.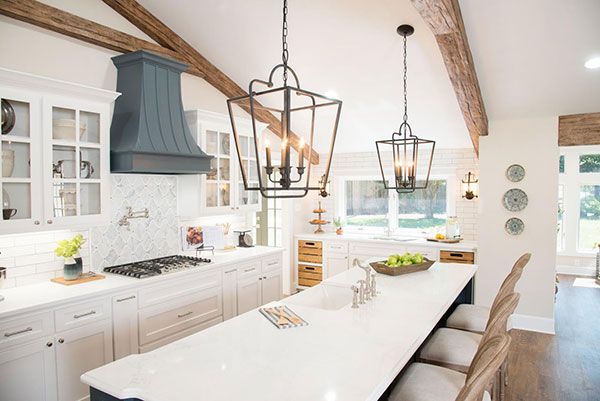 6. An Exposed Beam Ceiling
Almost every Fixer Upper redesign incorporates the dramatic exposed beam ceiling look with a centrepiece fireplace to match. There's an easy way to give your home this farmhouse feel without ripping apart your ceiling. Designer and Atlantis Home blogger Judy Aldridge installed cedar ceiling beams in the dining room of her Texas home for just $160, in less than five hours. How did she do it? Aldridge bought 20 plain old cedar two-by-fours, each eight feet long, and put them together to create thicker four-by-fours. She connected them together lengthwise, trimming the ends, to create beams that fit the dimensions of her dining room. Hire a Jiffy Pro to come to drill your DIY beams into the ceiling so they're securely in place.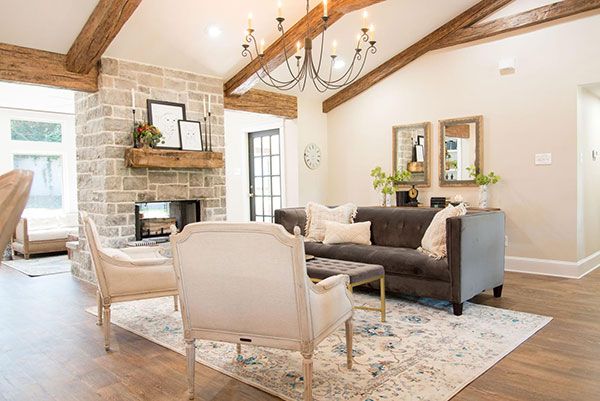 7. Reclaimed Wood Wall
Heard of a reclaimed wood bed frame? Step it up with an entire reclaimed bed wall. There are a multitude of wood panelling variations available, we recommend sticking to a lighter shade of wood if your master is on the small side. Keep the other bedroom walls neutral to direct the gaze to the texture and patterns of the wood. If you're lucky enough to have hardwood floors in your room, try to match the wood as best you can to create consistency. Add crisp white bedding with soft pastel yellow accent pillows or a pop of blue to enhance the ranch look and feel.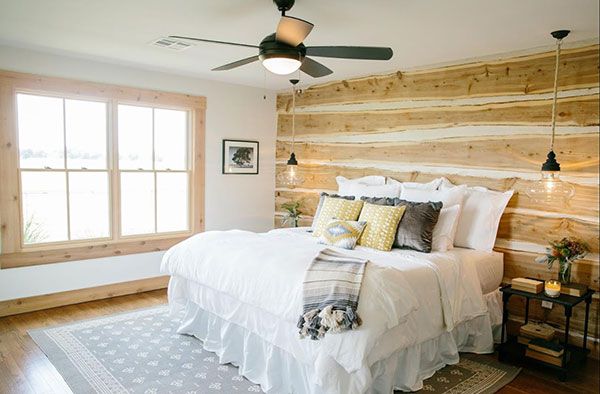 8. Cedar Pergola
Ranches are spacious and even if your backyard isn't situated on acres upon acres of rural farmland in Waco, Texas, you can bring the ranch home with a cedar pergola. Adorn your pergola with hanging plants and position a wooden outdoor patio set front and centre. Look forward to summer parties outdoors, this coverage will feel like a second living room in the warmer months. This space is also scenic for lazy Sundays unwinding with a good book and a glass of sangria.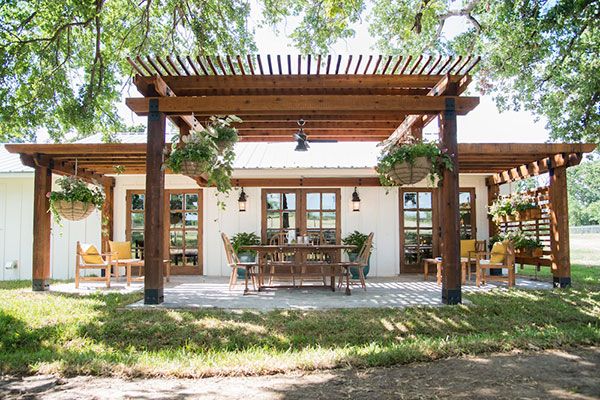 Jiffy Will Help Create Your Dream Home
Your dream home is closer than you think. Learn more about how we help you transform your own home in the palm of your hands using the Jiffy app. Put down the tools, drop the lengthy DIY renovations and book a Jiffy Pro to get the job done properly, quickly, and for less.
---