Jiffy is a platform that instantly connects homeowners with nearby, quality home maintenance and repair professionals in over 30 categories. Welcome to our blog, where we share home maintenance tips, inspirational design ideas, and information on how we make it easier than ever to complete projects around the house.
Technology has already revolutionized the way we interact with one another. It only makes sense that it's starting to change how we interact with our homes.
Smart home products are everyday household objects that can be controlled with your smartphone or tablet. Whether you're renovating, just moving in, or looking to upgrade your home connectivity, smart home technology can help modernize and automate your home in ways you never thought possible.
We've covered some of these products before, but the selection is becoming more comprehensive all the time. That's why we've compiled some new favourites, plus some essentials that we believe every homeowner should consider.
We are big proponents of making life easier around the home. That's why Jiffy offers professional smart home installation services to get your automated home life up and running.
Smart Products to Consider in 2019
1. Smart LED Light Bulbs
Even without smart technology, LED lights are far more eco-friendly, efficient and cost-effective than standard home incandescents. When you add the smart technology, the benefits of switching are even greater.
Smart LED designs like Philips Hue White Starter Kit give you amazing control over your home lighting. Along with the LED bulbs, which can last up to 50,000 hours, these kits come with a central hub which you can connect to via an app. With a touch of your phone, you can turn lights on and off or dim them for the perfect atmosphere. You can also schedule lights to turn on when you wake up or just before you get home from work. These systems can usually connect to Amazon Echo, Google Home and similar devices, allowing for hands-free voice control.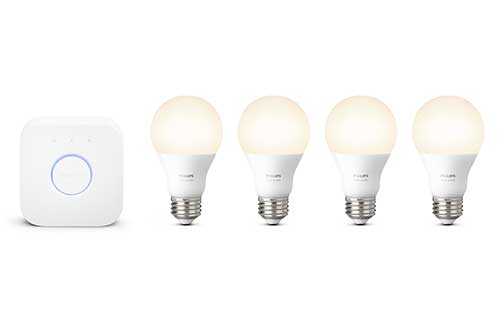 2. Smart Shades
A product like this really demonstrates how the smart home movement is making the most intuitive tasks more intuitive for all homeowners. Outfitting your windows with Lutron's Serena Remote Controlled Shades make dimming windows in hard-to-reach places as simple as a few touches of a smartphone or tablet. This ease of accessibility makes them incredibly useful for elderly homeowners and those with mobility issues.
Serena Smart Shades also come with impressive automation and personalization features. A geofencing feature allows you to set your shades to automatically open and close based on your location. Voice-control capabilities allow you to control the settings via the Apple HomeKit and other smart home hubs. These shades can also be integrated with other smart home products such as lights and thermostats, allowing for highly-customizable atmospheres around the home.
3. Smart Speakers
Smart speakers have become increasingly popular over the last few years. Models from Google, Amazon and Sonos differ slightly in look and function but provide many of the same features and benefits.
These multi-use speakers operate either via voice commands or by smartphone or tablet. Not only can they play music, podcasts, audiobooks, the news and the weather, they can also act as control hubs for your other smart devices such as light bulbs and smart thermostats. Whether you want the lights dimmed, the heat turned up or just want to know how far away Mars is, a smart speaker will oblige with a friendly voice.
4. Smart Pet Feeders
Yes, you read that right. While this one may seem a tad unnecessary at first glance, smart pet feeders are an innovative way to ensure that pets get the right amount of food on the right schedule. They are especially useful for pet owners who travel regularly or work long hours.
Models like the PetNet Smartfeeder are automatic food dispensers that pet owners control remotely. The system's app allows you to portion out food and schedule out when it dispenses over the course of the day. The system will also help you determine ideal the ideal portion sizes for your pet based on age, weight, breed and level of activity. For added peace of mind, the app will notify you when it has dispensed food successfully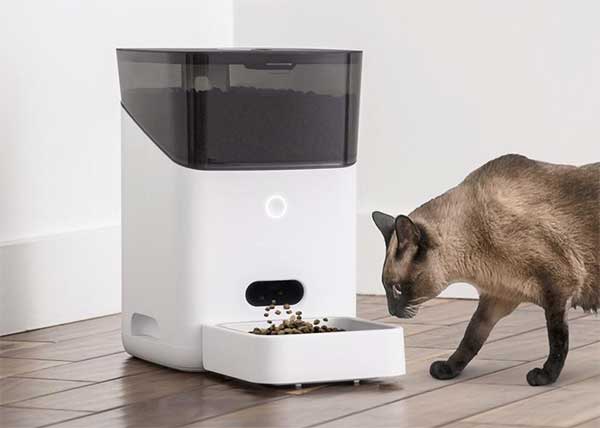 Essentials For Every Smart Home
Here are some of our favourite smart home products that we've covered in the past. These sleek, modern upgrades to household essentials are products that every homeowner should consider.
1. Smart Smoke/Carbon Monoxide Detectors
Of all the smart-home upgrades to choose from, installing a smart smoke/carbon monoxide detector might be the most worthwhile. Even if your older models are still working, smart alarms have state of the art features and provide better warnings.
Models like the Nest Protect Second Generation connect fire alarms and carbon monoxide detectors in your home to a mobile app. This means that the system will notify you of an emergency even when you are away from the house. The mobile feature also allows you to test and turns off alarms remotely from your smartphone or tablet. When you are at home, the Nest Protect's sensors can detect fast and slow-burning fires, as well as carbon monoxide. A voice alarm will notify you of the room in the house where the emergency is located and will tell you how best to proceed.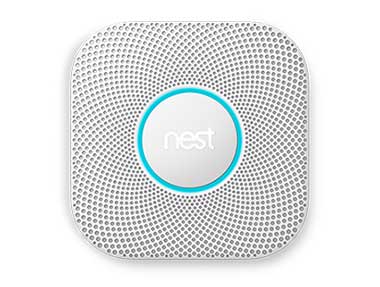 2. Smart Security Products
We've all been there: you've left the house, either late or on autopilot, and you suddenly start to doubt whether you locked up, closed the garage, or performed some other small task. Well, with these smart-home security products, you can achieve home security and peace of mind right from your phone:
Door Locks: Smart locks like the August Smart Lock Pro + Connect allow you to lock and unlock your door from anywhere using the August app. You can also grant secure access to people you know and track comings and goings. It's compatible with Siri, Amazon Alexa, and the Google Assistant
Garage Doors: Smart garage door systems by companies like Chamberlain allow you to remotely open and close your garage with your smartphone. Look out for future models that will reportedly use geo-fencing to determine your location and automatically open the garage when you are within a certain distance of your home.
Jiffy Can Help With Any Smart Home Installation
No matter what smart home products you've decided to invest in, one of our Pros can install and configure the settings to help you get the most out of your new gadgets. Jiffy offers smart-home installation services. Simply fill in your order details, your address, and a time that works for you and we will dispatch the nearest the Pro at the time indicated.
---