Behind the Scenes: Jiffy's 1st Year in Review
By Paul Arlin, Jiffy Co-founder
I Needed 3 Light Fixtures Installed... Sounds Simple, Right?
One Saturday morning, my wife and I bought a few new light fixtures. When I asked the lighting store if they had someone who could come and install them for us, and they handed us a business card of an electrician. I called and got their VM, left a message and never heard back. When we got home, I browsed around online, read dozens of reviews, and started calling around. 2 hours, 8 phone calls and 2 conversations later, and I still didn't have an electrician willing to come and install the fixtures.
This was the lightbulb moment (pun intended). I was sure there was an available electrician, driving around my area that morning that would have been happy to stop by for the quick job, but there was no dispatching tool to connect me with them. Same with all other home services. There should be one.
Fun/True fact: I actually considered walking out to Yonge St. to flag down an electrical van.
OK, Let's Do It
I'm constantly pitching ideas to my brother-in-law, Jaimie Grossman. When I passed this idea by him, he instantly fell in love. We then brought on Ryan Shupak as our third co-founder, and hired Michael Choi as our lead developer.
After a year of research, we began building our MVP (the first iteration of our web app) in April 2015, began testing with friends and family in June, and released it to the public in September. Our first email out sounded something like this:
It doesn't look pretty, and your job may not get accepted right away, but please give it a try next time something comes up in the house, and give us as much feedback as possible!
Since then, we've launched 4 new products - iOS and Android homeowner and pro apps, built natively by our amazing mobile developer Ahmed Saad. Homeowners now get a notification when their pro is on route (and soon will be able to track them on GPS).

What's Changed and What Hasn't
We knew all along we would need to launch what we thought would work best, and then see how homeowners and pros interacted with it. We figured all homeowners would only want same-day service. Turns out over half prefer to schedule for a future day, but they love our instant booking, pre-set prices, pre-vetted pros, satisfaction guarantee and general ease of use over the status quo (of reading reviews, calling around, price comparing, yada yada).
Pros accept way more jobs than we initially would have thought. On top of getting new clients, the ease of scheduling and collecting payment on their end were the most attractive features of the app.
Our Pro Network
When testing the feasibility of the concept, we called dozens of small business owners to see if they'd be interested in joining Jiffy. We quickly learned it was a no-brainer. When asked if they wanted to join, over 90% said, "Yes, when's it going to be ready"?
We give pros an instant boost to their bottom line with zero up-front cost (they pay a nominal % on jobs they choose to take on). And for that %, on top of getting them a firm job, we also handle the invoicing, payment, direct deposit and customer service if necessary.
In late fall, we brought on Steve Hann to help with the influx of pros that were applying to join. Steve handles the vetting and training, and manages relationships with our pros.
FYI: An average pro on Jiffy makes $3,500/month. That's in addition to whatever they were bringing in before joining the platform. Know someone amazing who works in one of our service categories? Tell them to apply here.
Our Homeowner Network
While we've only scratched the surface since our fall launch, we have thousands of homeowners in our launch city of Toronto, and it keeps growing every day. There's a virality component to it - home services are generally referred by friends and family. Because we're a one stop shop for all maintenance in your home, we get referred for all service categories. Once a homeowner tries us once, most stick around and use us for everything in their home.
Ryan's vision for growth has succeeded incredibly quickly. So much so that we brought on Sara to manage our large network of homeowners and coordinate marketing, allowing Ryan to focus on larger growth plans to get Jiffy in more houses.
For homeowners, we've made running your house simple, easy, convenient and guaranteed - all without ever paying a premium.
Haven't tried us yet? Use JIFFY25 for $25 off your first job.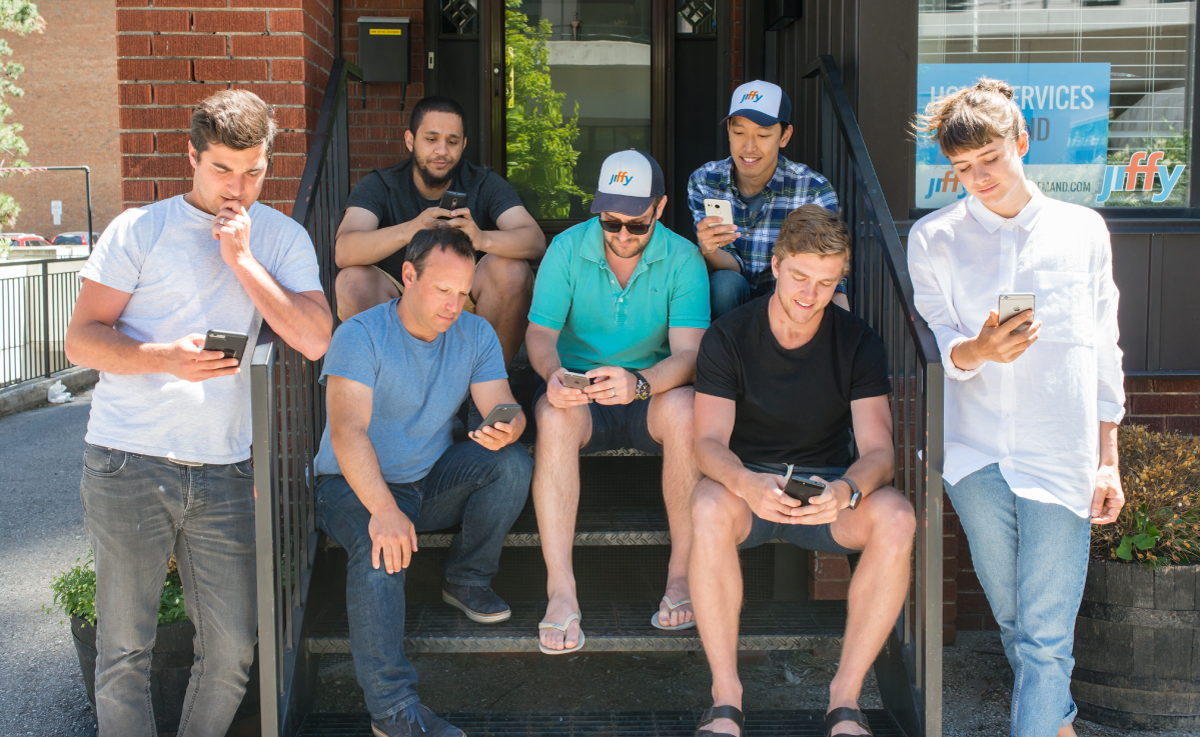 Read More